We review the effects on businesses caused by the "February 20, 2021, Phnom Penh Community Incident" which has seen the biggest number of positive COVID-19 cased linked to a community outbreak to date.
The news of the incident broke on Sunday 21st February 2021 and since then, a number of industries have announced temporary closures or changes to help prevent spreading coronavirus in the capital and beyond.
Prime Minister Hun Sen has said: "This community incident is worse than the previous two and in just three days, has become a more difficult situation than the previous two occasions to contain. I also appeal to all people in the country to avoid Phnom Penh as the city is in a health crisis and as such it is advisable not to come to the city for any purpose other than emergency needs."
How many new COVID-19 cases are linked to this community outbreak?
31 cases were initially linked to the February 20 Community Incident.
The Ministry of Health on February 21, 2021, confirmed 17 new COVID 19 cases, including 15 cases related to the "February 20 community event".
The Ministry of Health confirmed on February 22, 2021, 35 new cases of COVID-19, including 31 cases related to the"February 20 community event".
February 23, 2021, the Ministry of Health announced 25 more cases of COVID-19 infections in Cambodia, of which 23 cases were related to the "February 20 community event".
February 24, 2021, 40 new cases of COVID-19, with 38 cases linked to the local outbreak "February 20 community event" were confirmed.
February 25, 2021, confirmed 65 new COVID-19 cases – 58 related to the "February 20 community event" and 7 others that were imported from abroad.
Who should you contact if you have symptoms?
If you have any symptoms such as a fever, cough, cold, sore throat or difficulty breathing, please call the emergency numbers:
115
012 825 424
012 488 981
012 836 868
Which locations in Phnom Penh have been affected?
The Ministry of Health has appealed to those who have visited any of 23 locations between 6 to 20 February 2021, to get tested at Chak Angre Health Center and self isolate for 14 days.
N8 Club
Casa By Meridian
Le Gong Guan Hotel
City Comfort
The Bridge
The Post Service Apartment
Mekong Street
Pent House Apartment
Skyline Dumex
Somet Condominium
Residence L Olympic
Prince Plazza Centre
Celeste Skybar
Diamond Twin
Junzun Karaoke
Coco Club and Hotel
JuHao
The World Shop (back of Ratana Plazza market)
Care Mansion
168 Club (former Norkor Samrith, near Olympic Stadium)
Love restaurant (Boeng Raing commune)
Hun Sen Bun Rany Phnom Penh Thmey High School
SIS International school (near Doeumkor market)
On 24th February 2021, the following locations for Phnom Penh were added (according to the Khmer Times):
Kolab I primary school near Wat Phnom
American Intercontinental School in Chak Angre Loeu commune
Jinzun Karaoke in front of Phnom Penh International Airport
Borey Hitech in Niroth commune
Sela Whitehouse in Prek Eng commune
Borey Chip Mong Land in Sen Sok commune
Bali 2 in Chroy Changva commune
Bali 5 in Tonle Bassac commune
Phariya Apartment in Tonle Bassac commune
Ngan Sophy 'House in Kouk Khlaing commune
Resident Le Boeng Tompun in Boeng Tompun commune
Rotha's Family near Wat Phnom
Wedding Party near Global Pary in Taing Krasaing commune
Romantic Restaurant near Wat Phnom
Golden Jazz in Koh Pich
Sous Tony's Families in Tuol Sangke commune
Ey Luo Ling Seang's Shop in AEON I
HH Hotel in the back of Wat Langka
Diamond One in Koh Pich
Ny Ka Smy in Beung Trabek commune
Gold Class in Beung Keng Kang commune
CASA Villa in Beung Keng Kang
Elysee' in Koh Pich
What locations in Sihanoukville have been affected?
As a precaution, on the 24th February 2021, the following hotels in Sihanoukville have been closed:
All 3 branches of Jin Bei Hotel, Sihanoukville
Horng Gon Chea Yi Hotel, Sihanoukville
Schools have also been ordered closed.
Public events and gatherings
There has been a lack of clarity on what the restrictions are, initially, no groups of 20 were allowed but Hun Sen also told the Khmer Times that he appealed "for all wedding ceremonies to be cancelled and if this cannot be done for whatever reason to scale down seating."
QR Codes for contact tracing – "Stop COVID"
Public and private institutions, restaurants, hotels, factories etc have been asked to register and set up the QR Code "Stop COVID" to assist with contact tracing in the capital.
The Ministry of Posts and Telecommunications (MPTC) reported more than 10,000 businesses had implemented the QR code by Monday 22 February 2021.
QR Code "Stop COVID" can be downloaded at https://stopcovid.gov.kh
Businesses are asked to print and paste the QR code on their entry-exit, so the public can scan it with their smartphones when they check-in and check-out.
The system does not track the privacy of each individual.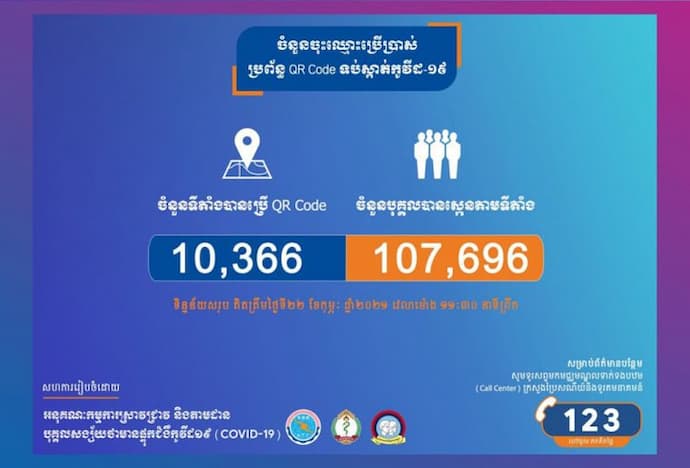 Bars, Clubs, KTVs in Phnom Penh
On February 21, 2021, the Ministry of Tourism (MoT) announced the closure of all KTV, entertainment clubs (karaoke, bars, discos and beer gardens) in the capital of Phnom Penh to prevent the spread of COVID 19.
Schools Closed
The MoEYS confirmed all schools in Phnom Penh and Kandal to close for a minimum of 2 weeks following the recent outbreak. Minister of Education Hang Chuon Naron asked for all affected schools to hold classes online instead.
On February 24th 2021, the Ministry of Education, Youth and Sports (MoEYS) also closed all public and private schools in Sihanoukville and Stung Hav for 14 days.
Cinemas & entertainment venues in Phnom Penh
Major Cineplex Cambodia announced on 23rd February that its cinemas at Aeon 1 and Aeon 2 in Phnom Penh had closed for two weeks. We advise you to follow their social media pages for updates and clarifications.
Legend Cinema also confirmed they have closed their cinemas in Phnom Penh only.
On February 23rd the Ministry of Culture and Fine Arts issued a two-week temporary closure in Phnom Penh and Kandal Province of all:
Cinemas
Art galleries
Theatres
Museums
We will update as we see more notifications.
Fitness Clubs, Gyms, Sports Clubs
Fitness clubs, gyms and other sports-related business and exercise gatherings were suspended on February 24th 2021 in Phnom Penh, Kandal and Preah Sihanouk Provinces.
Limited Sports Bans
The Ministry of Education, Youth and Sports (MoEYS) said sports activities and events in the education sector that involve 20 or more people are not allowed for now due to the latest outbreak.
However, the sports ban only covers private and public schools around Phnom Penh.
How can this impact foreigners in Cambodia?
As long as you comply with the laws and follow the Cambodian government guidelines expats and foreigners living and working in the Kingdom who are connected to the outbreak of COVID-19 if they flout the laws.
You are advised to keep digital copies of your work permit and up to date visa on your mobile phones.
Media outlets reported that "harsher penalties await foreigners and owners of establishments who or which are connected with COVID-19".
For foreigners- deportation from the Kingdom of Cambodia and prohibited from re-entering the country.
For Cambodians, please take legal action.
For the location, please revoke the license and close the business.
Cambodians will take legal action "by not reporting possible patrons or visitors or not cooperating with authorities in contact tracing efforts, will be closed down and their licenses revoked" reported the Khmer Times.
We advise you to follow the official Cambodian government and ministries updates as more announcements are likely to be made.
Source and credited to: https://www.b2b-cambodia.com/articles/february-20-2021-community-incident-phnom-penh/